So people have raved and ranted about Jab tak hai Jaan. They watched, some laughed, some cried, some laughed hysterically at their own plight while some cried hard in despair. And I was the one who sat between them and was trying to teleport the hour hand on my watch. Can you blame me? I was sitting in the second row and looking at Shahrukh Khan's god-knows-when-you-last-brushed-me teeth staring down right at me. It was a tobacco stained nightmare.
Anyway don't ask me what happened in the beginning because I was deliberately ten minutes late to the theatre. Excuse me, if I thought that snacking was a better option than watching Shahrukh show off his first name on his army tag. So I take my overpriced popcorn and strut into the hall. Apparently it doesn't seem like I missed much, and also, I didn't catch much after that what with my constant involuntary eye rolling. I think I saw the ceiling more than the movie. All I remember in the first half is Shahrukh Khan aka Samar, give guitar lessons without using his left hand. Chords?? Who the f needs them? I'm Shahrukh, I'm 25 and I can do anything! London, London, Dhandhan. Anyway the song sounded a lot like "Bulla ki Jaana" and before I could scream bloody plagiarism, my mummy reminded me that this song was also sung by Rabbi Shergill, Okay, so should I forgive him for that? She said ya, and went on to explain that "If Yash Chopra can mash up his own movies and come up with this Kayam Churn of a movie called Jab tak hai Jaan which not only took his Jaan and is in the process of taking ours, what is Rabbi's mistake? Bulla, Challa whatever! Shut up and Listen", she commanded. I wailed but then suddenly I saw Katrina (Meera, is it?) and Samar make a saudha of a lifetime, He'd teach her to sing Punjabi songs and she'd teach him english and I was suddenly engrossed in the suspense of a lifetime, Will they actually teach each other anything? will they discover wild secrets and try to blackmail each other? will they, wont they? After a half an hour of unwanted engagement ceremonies to royally forgotten Rogers, 50 yr birthday parties to 60 yr old Anupam Khers, suddenly planted bike rides to eloped mommy's and drunkard fat ass step daddy's house (Did anyone notice Kirron Kher's voice conveniently change to Neetu Kapoor's facade? Strange) while all the time listening to my mommy's comment, "Where's roger? Why isn't she going out with him? Roger Roger Roger!" in full hindi serial style. (I'm pretty sure even Roger's mother wasn't worried about Roger as much as my mother was ) After all this, I learn that all this bloody thing was a flash back and now this Samar is in the army and there is another character-in-hot-pants waiting to chew my brains out, Anushka Sharma as Yuck-heera. (I told you I missed the first part, go read Taran Adarsh's review if you are interested in the story. BTW, does anyone know how much Bollywood pays him to write all that crap?)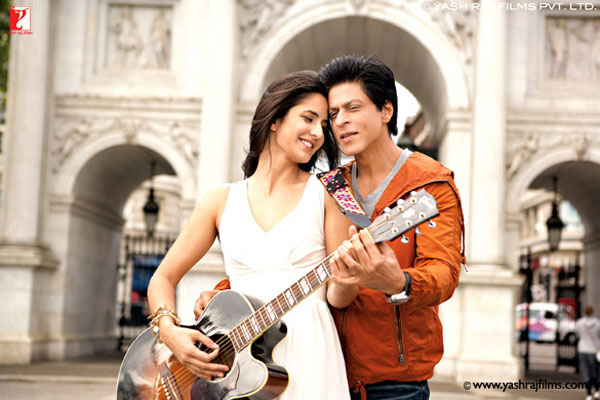 I think around this time, interval happened. Or was it later? My mind's just gone blank. I think its retrograde amnesia. I think its stuck at exactly ten minutes before watching that movie. Maybe I should ask somebody to pretend like the movie never happened. May be if I see my mother's face, that may trigger my memory.. Nah, I just saw her. Hey wait, there's a laptop in front of me, that reminds me of the screen, and voila! that reminds me of the movie, exactly the same way in which a backpack on a train reminded Samar with his unheralded X-ray vision to tell us the exact details of the bomb inside. Man, I remember everything now. If only, I had a male Katrina Kaif waiting for me.(If you are waiting for me and you look like Hritik Roshan, leave a comment below and wink, wink!) Okay, so this Meera is waiting for him, but before that, did I mention that there is a sugar-overdosed Akeera who goes to the Army to make a documentary about the "Man who cannot die,
but can bore others to death
" and get this, while the guy, Samar is busy deactivating the bomb upon which her lame documentary is based, she listens to the Ipod pointing her camera at some hillbillies who've come on the sets just to make it look fuller. Yeah, now I remember everything. She then sings some songs in her chaddies with her newly found Army buddies and makes a Discovery channel director cry after seeing this sorry ass documentary (I think she was worried about the future of the channel)
and finally we get to know that the only reason she was in the movie, apart from obvious perks like enlightening us about the ingenious ways of Samar, the bombman+electrician
(Sorry, electronics genius!), was to make him come to London for a senseless reason so that he meets with the fateful accident which MAY (I'm stressing on may) make the movie come to an end. Apparently, not! Here comes another half an hour of kindergarten kisses, primary school love scenes and sad excuse of a Samar's kitchen. So, after going through all this and getting banged on the head by a tortured toddler in the backseat, I expect the
story/drama/saga/charade
nothingness to be over in London, but No! this is a Yash Chopra movie, We have lots of money to spare and lots of taxes of evade so lets go back to Ladakh/Leh/wherever they have enough time to come up with a minimum of two ready-to-diffuse-bombs-for-Samar per day. So finally, this Katrina she comes to her senses, realises that people have to be sent home atleast now, and she heads to this bomb place and the bomb guy Samar retires and I doubt if they live happily ever after. I mean, with so many people cursing, I really don't know. Anyway, I ran out of the theatre as fast as I could.
By the way, did I mention the protagonist of this movie? Its Sir Jesus. Why? Go and watch. I shouldn't be the only sufferer
WARNING: You may get a serious case of Inferiority complex after listening to the achievements of the characters. Just remember that you were dumb enough to pay almost 200 bucks to watch this movie, that ought to make you feel worse! Wait, I think that came out wrong.