Love, a beautiful emotion.
It fills my heart with feelings feelings so deep, that it reaches my stomach and rebounds, and within the next five seconds, you can guess what I had for dinner.
Lets keep that exercise for later.
Now read this,
What happened to the good old days when love was confined to the boundaries of the neighbourhood Krishna Rao park, when it was only embarrassing to the poor old men who entered such parks for a 10 feet walk, when the only witness to lovey-dovey boy and girl was the pigeon who waited patiently while trying to choose which part would be most effective to shit on, when publicity was taboo, when girls dressed like suicide bombers so that their relatives don't recognise them. It is gone. This is the love that Bobby Deol sang about in he movie Kareeb, I don't remember the song exactly but I'm sure he must've sung about it. Secret love.
But nowadays, people are becoming hopeless. And its all because of this horrible Facebook.
It has unknowingly started a cultural revolution in India. These lovers, they post all their love msgs, PDA pictures etc etc on it. I ask, where are their relatives and what are they doing? Shouldn't they be the ones who should take the enormous responsibility of informing the love sick donkeys' respective parents about the antics of their kids? Isn't this the right time to take advantage of their unwritten constitutional right:
"Right to impose self's opinion on your wife's sister's brother-in-law's daughter's life" (Applicable to the citizen's family upto his fifth circle, can be extended to sixth under extraordinary conditions, for example: when somebody's daughter elopes)
But its hard nowadays, even these relatives, whose opinion is sacrosanct in all Indian homes, so sacred that every house has a long distance phone call to make before taking any major decision in the neighbour's brother's daughter's life. (
Yes, they are so important
) nowadays even they are keeping quiet! Tell me, is it fair?
This bloody publicity of lovers, Its affecting even the film industry badly. Bollywood may have moved past it, but Tollywood, Kollywood, Sandalwood and Lollywood still make moolah out of clandestine lovers. Remember the millions of movies in which rich girl and poor boy fall in love, girl and boy decide to get married, girl and boy have to face furious daddy and his flexible villians, boy fights all of them and wins Daddy's heart. Now tell me what will these people make movies on?
What happened to all the caste problems and rich-poor divide, have all of the parents suddenly become uber-cool? How nasty! Don't they know that we live in India, the land of the Khap panchayat and its associates whose names are not as famous as Khap and hence I'm not aware of. Parents, I tell you, when kids are out of their twenties they let them go haywire, sometimes to the extent of being happy for them. Ridiculous, I say!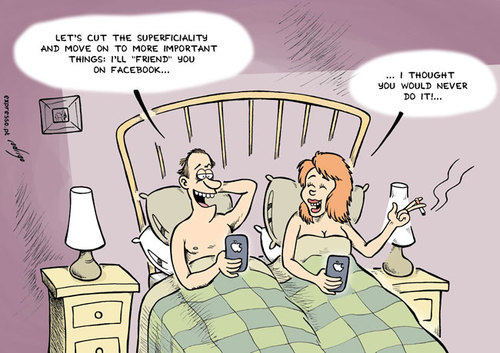 You are not understanding the gravity of the situation, are you? You think I'm making up illogical, outdated crap, eh? Then you must be one of those lovers who just posted:
"I had a wonderful valentine's week with my sugar honey bunny. He gave me the bestest surprise ever. Thank you my chunnu munnu gunnu"
And hence, I give a chunnu munnu gunnu's ass about your opinion.
But this status that I read, it is the last straw:
"If you are single and feeling sad and lonely on valentine's day, remember that you are unloved the other 364 days as well"
War! I declare War!
Maybe, next year, I'll join the Sri Rama Sene. But, It seems they are into peaceful protests now. Losers!
Hmm..I'll take it up with Ahmedinejad, he seems to be the right guy to tackle this. Now, if you will excuse me, I also have to make a long distance call to Iran.